Ahead of Saturday's League One opener at Glanford Park, we get the lowdown from a selection of Bristol Rovers fans about how they think the Pirates will perform this season following back to back promotions.
You managed to sneak into the automatic promotion spots on the last day of the season. Did you anticipate such a good season following the defeat of Grimsby in the Conference play off final the year before?
Captain1883 I thought we'd be good enough to push for the play-offs but Matty Taylor's 28 goals made a massive difference. We probably would have been fighting for that 7th spot without him.
Gas Go Marching In I was personally more optimistic than most Gasheads. I expected us to be at least challenging for the playoffs, if not in them, at the end of the season but automatic promotion surpassed my expectations.
Hugo the Elder Darrell Clarke's teams don't know when they are beat and never give up. We have a handful of very good players and a fantastic team spirit. While actually going up may have been a bonus, I'm not surprised we exceeded expectations.
Antonio Fargas We timed our run to perfection. We got our poor home form out of the way early on in the season. No one in the squad wanted to be up there to be shot at for any number of games because we are the hunters not the hunted. Darrell Clarke decided that two minutes in the playoff zone at the end of the season was just about right.
Actually, this was a decent mirror to our relegation season when we were in the relegation zone for only the last 70 odd minutes of the season. I think most people would have been happy with playoffs just to show that we were capable of promotion at some point soon, but we were all very sick of bottom half of League 2 football.
No one at the club really thinks League 2 is our proper level.
MarioBalotelli No, although Darrell Clarke did say that he set the players a target of top 7 and so I should have expected it. I would have been happy just staying up, so expectations were far exceeded for me.
CurlyWurly: Just as we snuck into the relegation spot in 2013-14 on the last day of that season, it brought about a collective battling spirit in the club. Last season we won a significant number of games in the last 10-20 minutes, which epitomises the never say die attitude that has emerged. Apart from Northampton, it seemed clear from the new year on that Plymouth and even Oxford were faltering and earlier challengers like Portsmouth and Leyton Orient were falling away. Rovers second half of the season was exceptional and it was clear that we had the momentum to challenge.
Realistically, how will you do this time around?
Captain1883 The manager and new owners have clear ambitions to do well again this year and I can see a top 10 finish.
Gas Go Marching In I think we can be challenging for the playoffs this season. We have kept our squad and manager together and that is important. We could maybe doing with adding a couple more players.
Hugo the Elder Mid table mediocrity I think.
Antonio Fargas Top half. Going on a classic Darrell Clarke late run we might even sneak the playoffs.
MarioBalotelli The same as I said going into last season- as long as we stay up I'm not too fussed. In the past two seasons we've had very slow starts and still managed to get promoted. If we get off to a good start, I see no reason why we can't finish top 6. Darrell Clarke also likes to set the bar high and if the players don't match his expectations of them, they'll be out the door. But staying up will do for me.
CurlyWurly: I don't think we'll struggle, but can't believe that we'll challenge for a 3rd promotion on the bounce. Top half, with an outside chance of the play-offs.
You managed to secure Matty Taylor despite interest from Oxford. How important was it to keep hold of him and how do you think he will do in League One?
Captain1883 If he can get 28 in league 2 then I'm convinced he can get 15-20 in League One. But, it's a level he's never played at before so we will have to wait and see.
Gas Go Marching In Very important. He is tried and tested with us and I'm sure he will be good enough for League One. 20+ goal a season strikers are hard to come by and he wouldn't have been easy to replace.
Hugo the Elder Matty Taylor has never played at this level before so who knows? He has improved a lot in the last 2 seasons and he has a habit of proving people wrong. I think he will get 15+ this season.
Antonio Fargas He will rip it up like a monkey reading yesterday's Times.
MarioBalotelli For me the key thing would have been keeping him from going to a championship club and I have no doubt a few would have sniffed around. Obviously, fans of other clubs don't watch Taylor every week, but in my opinion, finishing is one of his weaker traits and even if he's not scoring he'll still be a key player. If he starts the season well he'll get 20+ again. When it comes to scoring he seems to be a confidence player and if he has none he can go a few weeks without, but when he does score he then tends to go on a streak of games with goals.
CurlyWurly: Very important in my opinion. He is still improving as a player and is always likely to score plenty. If we had lost him, to Oxford or one of the other suitors, it would have taken a significant fee to replace him.
Who else should we watch out for in the Rovers' side?
Captain1883 Billy Bodin was on fire in front of goal towards the end of last season so he will hopefully continue to be a threat. At the back, Tom Lockyer was brilliant and made the League Two Team of the season
Gas Go Marching In Lockyer is a class act at center back. He has come up through our youth setup and plays for Wales U21s regularly. Going forward, Bodin is dangerous cutting in from the right. I really think Montano could excel this season.
Hugo the Elder Tom Lockyer. Center back. Young Welsh U21 international. Top professional. Billy Bodin finished the season strongly and I expect him to have a good season off the wing again.
Antonio Fargas Bodin. This time next year Bodin will be a millionaire.
MarioBalotelli We really have a squad rather than stand out players. The team we have is pretty much the team we had in the conference and each year we just add a few key signings to them. There are a lot of players in our side who could be considered average, but because the team works as a unit they do so well. I'd go with Bodin/Sinclair.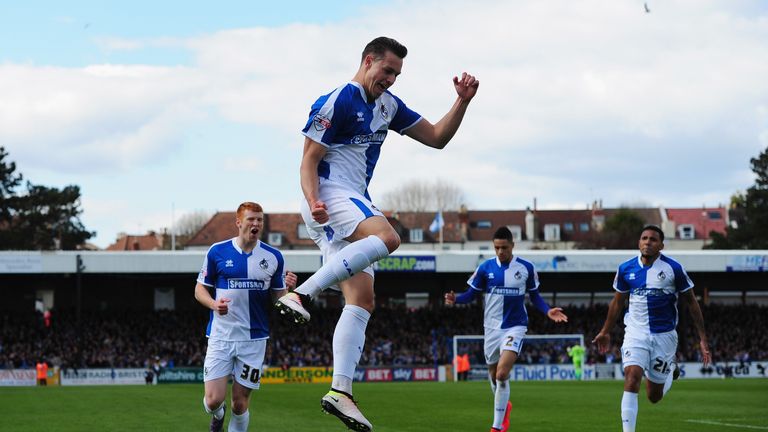 Any weak links we could exploit?
 Captain1883 We need a new keeper. Steve Mildenhall has been a great servant but I don't think he is League One standard.
Gas Go Marching In Our midfield looks potentially weak. Lines is a proven League One player but not sure who will play alongside him at the minute.
Hugo the Elder We lack quality but we work hard and are very solid. You will only beat us if you are prepared to match our work rate and commitment.
What was the best moment of last season?
Captain1883 Everyone will rightly tell you it was Lee Brown's 92nd minute winner on the last day of the season to secure promotion. I don't think we'll ever see anything that dramatic again.
 Gas Go Marching In Matty Taylor's shot rebounding off the post for Lee Brown to slot away a last minute winner. Everyone ran onto the pitch waiting nervously for the Accrington score to come through, then all of a sudden there was a massive eruption of noise as we found out we were promoted.
Hugo the Elder It's Hard to top a last minute winner to secure promotion isn't it?
MarioBalotelli 92nd minute goal to go up. I wasn't there but it still beat the feeling of Wembley by miles.
What was the worst moment of last season?
Captain1883 We drew our game in hand with Stevenage 0-0 late on in the season which at the time I thought would cost us a top 3 spot. That was a gutting result at the time
Gas Go Marching In  The 3-0 defeat away to Pompey was the worst I have seen us in a while and the Chesham defeat was the most embarrassing in the FA Cup. Losing 1-0 to Oxford at home was the most frustrating as we unfairly had a player sent off in the first half, only to outplay them and get outdone by a Kemar Roofe wonder goal.
Hugo the Elder Not sure we had one!
MarioBalotelli  I'd say losing 4-1 to Newport. We haven't really lost that big under Darrell Clarke and it came as a bit of a shock as everyone expected a routine win. Losing to Chesham was bad too, but considering we lost against Bath the season before too, I don't really feel we took cups too seriously and just wanted out.
Predict the top 6 and bottom 4 of League One this season
Captain1883 Sheffield Utd, Millwall, MK Dons, Peterborough, Coventry, Rovers. Bottom 4 – Wimbledon, Port Vale, Fleetwood, Shrewsbury
Hugo the Elder  I'm not one for predicting league positions! Hard to see past all the big boys in the division for the top 6 spots.
MarioBalotelli Milllwall, Charlton, Bradford Sheffield United Coventry Peterborough (Heart says Rovers). Bottom 4 – Shrewsbury,  Port Vale, Northampton, Chesterfield
CurlyWurly MK Dons, Millwall, Bradford, Scunthorpe, Coventry, Sheffield United. Bottom 4- Oxford Utd, Wimbledon, Chesterfield, Shrewsbury
Where will the game be won or lost?
Captain1883 Rovers will definitely score so it's a case of whether you can score 1 more! Giving Taylor the ball as always is key
Hugo the Elder  Missed chances. We don't give many away but we have been known to miss a few sitters.
Antonio Fargas  We never start quickly, especially under Darrell Clarke so I fancy you, anyway. No idea how you will win it, though. Flukey defensive error, probably.
MarioBalotelli It will come down to fitness IMO. We have a very fit squad who are still giving the same effort in the 90th minute as they did in the first. Can see a late Rovers winner.