Iron Bru speak to Oldham fan Joe Bray ahead of Saturday's League One clash with the resurgent Latics, who have enjoyed an upturn in fortunes under new manager Richie Wellens.
It is fair to say Oldham are enjoying a period of resurgence following a terrible start to the campaign. What do you put that down to?
Richie Wellens. Since he took over he's won five and drawn two, completely changing the style of play. We're not just getting results though, we're playing some really good football and getting the rewards.

John Sheridan left last month on the back of that poor start. He's a bit of a legend up there, but things seemingly weren't happening for him this time around. Were you sad to see him go?
I think all Oldham fans were sad to see Sheridan leave. He's worked wonders by saving us from almost-certain relegation in the last two seasons, adding to successful spells as player and manager before that.
Personally I thought he had earned the chance to turn things around, but I think he'd had enough. The club is in the process of selling to Dubai businessman Abdallah Lemsagem, who imposed a number of his own players on Sheridan's squad and he was obviously unhappy about it.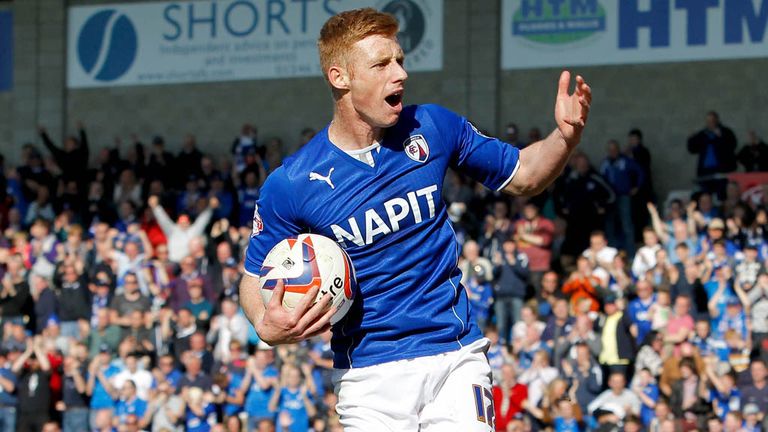 Dangerman Eoin Doyle loves to score against the Iron
He signed a few players on loan who are now doing the business (Eoin Doyle and Jack Byrne). Was it a case that he had signed the right players, but they were not quite buying in to his methods?
Doyle and Byrne have been key to our current form, so credit should go to Sheridan for getting them in.
Doyle is a goal machine and all moves go through Jack Byrne. It's a strange one because the majority of the squad was Sheridan's, so he has to take blame for the bad start. However, we were losing games from defensive mistakes, and the back four is the same one that kept 17 clean sheets last season.
There were plenty of names linked with the vacancy like Paul Scholes, but it seems as though it is so far so good under Richie Wellens. What sort of Oldham side are we likely to come up against this weekend?
There would have been an uproar if Scholes or Clarence Seedorf got the job over Wellens after his unbeaten start. That's a sentence I never thought I'd write, but it shows just how well he did.
We look like we'll score every time we attack, but the defence still has a mistake in them – just look at the recent draw at MK Dons. We in total control at 3-1 and 4-2 up, but let MK back into the game and ended up conceding a last minute equaliser.
Craig Davies is on fire for the Latics
Craig Davies couldn't hit a cows arse with a banjo for us last season but has been on fire for you this year. How impressed have you been with him in his second spell with the club?
Davies has just been keeping it simple, using his height and getting into the right positions. He scored in five consecutive games under Sheridan, and he's been working really well with Eoin Doyle upfront.
To be honest, I wasn't expecting him to be this effective but I won't complain!
In Davies and Doyle, you probably have statistically the best front two in the division. You've found goals hard to come by in recent years so it must be quite refreshing to see you firing them in this time around?
Last season we only scored 31 goals, this season we're on 25 already. It's brilliant to see an attacking Oldham side who take their chances.
Eoin Doyle is one of the best strikers we've had at Boundary Park in years, but the goals are coming from all positions. The real test will be keeping Doyle and Jack Byrne when their loans expire in January.
Who else should we look out for in the Oldham side?

One of the unsung heroes of our good run is Ousmane Fane. He's prone to a lazy back-pass, but he's really improved in breaking up play in midfield and letting the attackers get forward. We've also got Nantes loanee Queensy Menig on the wing, who's got some seriously good footwork.
He scored the late winner against Blackburn the other week, and the MK Dons defence are probably still trying to catch him after last weekend's game.
The real entertainment is goalkeeper Johny Placide, who's already become a cult hero. He's captain of the Haitian national team, and he loves a Cruyff turn and the odd assist.

Have you got a score prediction for us?
On current form, I can't see Oldham losing. I'm going for 3-1 to Latics, with Doyle and Davies sharing the goals.
---
Listen to the latest Iron Bru podcast